From all the painting techniques, aquarelle best known as watercolor is one that has fascinated me ever since I can remember. It is magical to see how with a round brush and water, inks or pigments create wonderful images. I admire those who master this technique. Not anyone can do it. Working with wet paper or medium while trying to spread colors without them all just blending together to make one big blob of mixed colors is something not everyone can do.
Cate Parr is one of those artists who I think has mastered the art of watercolor. She is a British artist that lives in California and whose work has made it into the covers and pages of very prestigious magazines in America.
I've been a fan of her work. It is utterly feminine and captivating. Her use of color is wonderful, especially when she uses the teal, cyan, turquoise tones that I die for. Her pieces are bright and vibrant, but they can also have a dark or gloomy feel. The magic in her work is that bright or dark, she always makes them look and feel ethereal and romantic. They also have a lot of movement, they are not flat images. She also is a master of making the images in her paintings transmit emotions and feelings.
What I like best about her work, is that some of her images feel like they are a window to my soul. I can relate to the figures and emotions she illustrates. I can stare at her paintings for hours and never get tired of it. Someday I'll own one of her paintings. Oh yes I will!
Cate Parr's work is definitely an oasis. Enjoy!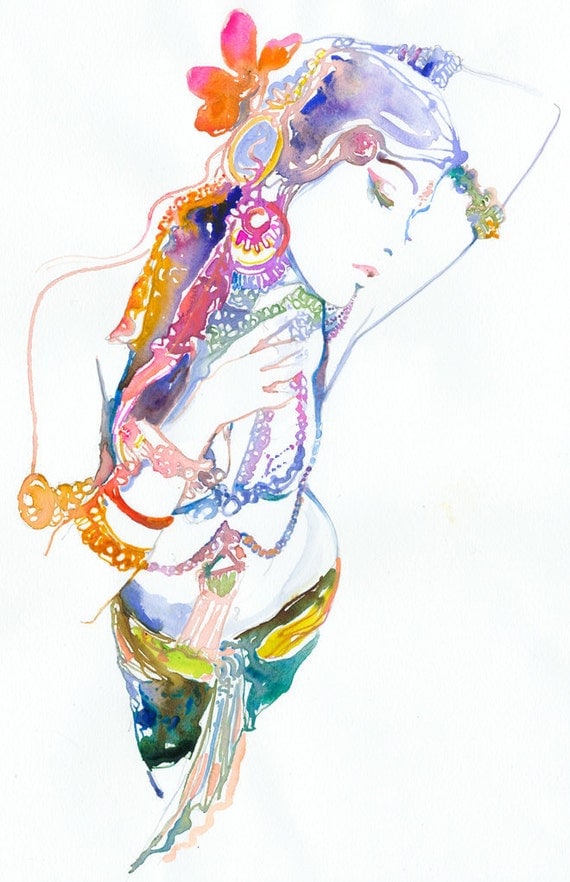 ---
All images copyright Cate Parr, via Etsy.